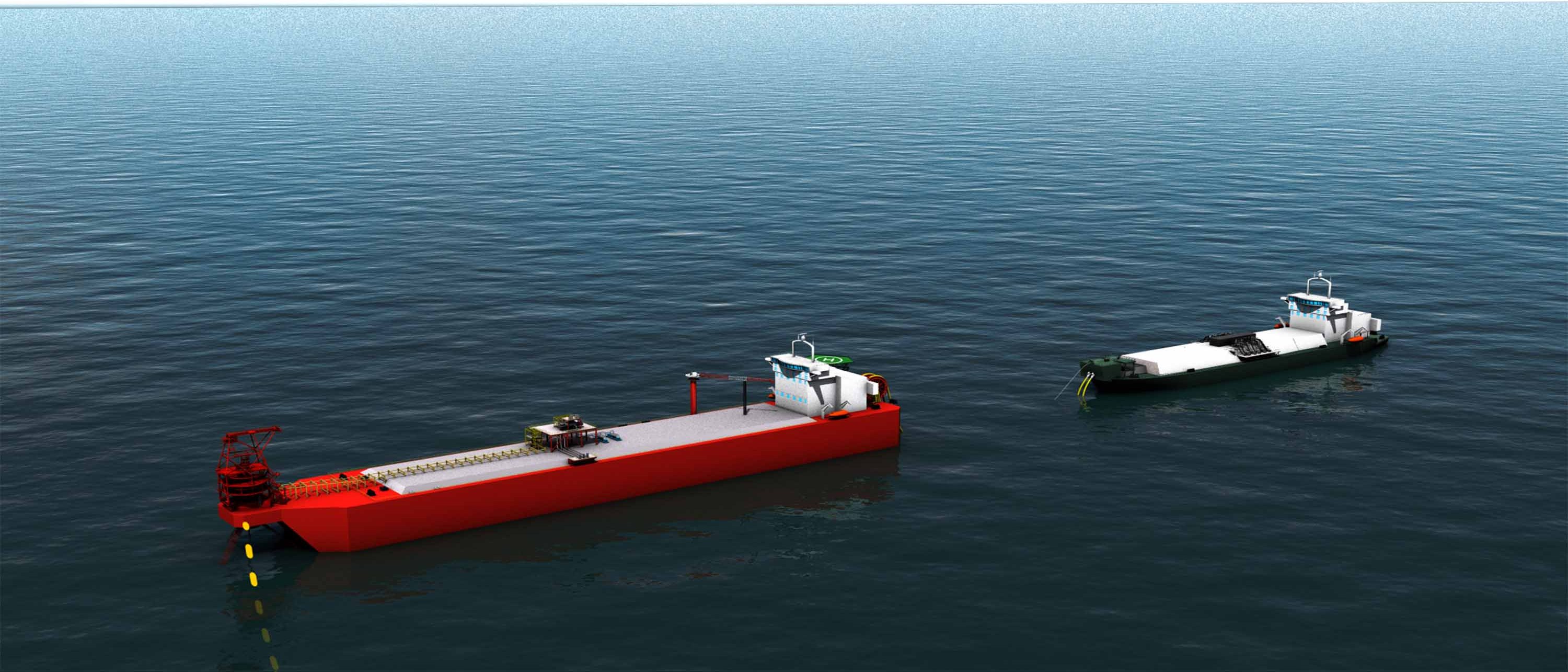 Offshore C-Hub™, a New Offshore Hub for CO2 Sequestration
An innovative, adaptable, relocatable and flexible floating hub solution for offshore CO2 injection and sequestration
Since 2019, Technip Energies has been developing a new offshore concept allowing permanent CO2 sequestration from multiple CO2 emitters: the Offshore C-Hub™, a floating storage and injection facility.
This creative concept allows a continuous, safe and adaptable injection of CO2 for its permanent sequestration into geological reservoirs. It has been applied on various conceptual studies in 2020 and 2021 for major clients, particularly for North Sea applications with the aim of injecting and sequestrating 4 to 5 MTPA of CO2. The studies involved multidisciplinary teams to deliver a conceptual design of the facilities, economic analysis, technology maturity and greenhouse gas (GHG) emissions assessment.
Offshore C-Hub™ technology is an innovative solution for the injection and sequestration of CO2 in offshore reservoirs. Adaptable, flexible and relocatable, it can be quickly deployed and adjusted to project specificities. Offshore C-Hub™ has been selected for the CStore1 Project, a large CCUS development offshore Australia.
Challenge
A portfolio of technologies and innovative approaches are needed to address the decarbonization challenges while supporting sustainable and competitive industries. Carbon capture and storage (CCS) is one of the options investigated by Technip Energies to contribute to overall carbon reduction efforts.
Today's CCUS projects neutralize about 40 million tons per year of CO2 and are slated to  increase to more than 2,000 million tons per year by 2040 to meet sustainable development targets. This will require a step change in logistic operations and developments of new solutions for CO2 transport and storage.
Technip Energies has raised the challenge to develop and propose a new CO2 management chain solution combining flexibility, adaptability and fast deployment.
Once captured, CO2 must be transported and sent to the location where it will be injected and stored for permanent storage. CO2 has specific properties and must be liquefied before being transported by ships. This can be either at low pressure (8barg and -50C) or medium pressure (15barg and -30C).
During the study, Technip Energies applied its extensive experience in offshore facilities design, offloading technologies and CO2 management from downstream capture to injection, including topside process and temporary storage, to develop this innovative, safe, cost-effective and low-carbon solution.
The Offshore C-Hub™ concept is a novel floating facility allowing temporary storage and processing of CO2 prior to its continuous injection into a geological reservoir. It is part of a global CO2 management chain including capture, liquefaction, ship transportation and offshore injection.
The proposed solution features these key functions:
Process topsides to continuously inject the

CO2

at the required pressure and temperature of the geological reservoir;

Storage of liquid CO2 parcel and buffer volumes in the cargo area;

Offloading of the liquid CO

2

parcel from LCO2 carriers in offshore conditions; and

Permanent mooring offshore above the injection wells, minimizing the subsea system.
Its storage volumes can be adapted to each project specificities and associated logistic chain deployed to transport the CO2 (e.g temporary storage capacities could range from 20,000 to 40,000m3).
Studies demonstrated the Offshore C-Hub™ technical and economic feasibility. The technology maturity assessment showed most of the embedded systems was mature with some developments to be made on the offshore offloading system.
Finally, the carbon footprint assessment allowed the identification of alternate means to ensure a low-carbon solution and reinforce the performance of the solution.
Studies were completed in a few weeks, allowing Technip Energies' clients to evaluate the relevance of this innovative solution.  Among the highlighted benefits, adaptability to project specifics, including capacity and distances, and the ability to receive CO2 from multiple emitters in various locations. The floating concept also provided strategic advantages by allowing rapid deployment and potential future relocation.
GHG assessment concluded that total CO2 emissions associated with this solution accounted for less than one percent of the amount of CO2 that will be stored permanently over the 25 years of operation.  It also allowed the identification of alternate means to reduce emissions and reinforce the performance of the solution.
Aligned with Technip Energies' strategic social and environmental objectives, the successful Offshore C-Hub™ project is ready for further studies and industrial implementation.
Our solution is ready for further studies and industrial implementation.
Get in touch
Send a message using the contact us form (select Carbon Capture Utilization and Storage from the dropdown).