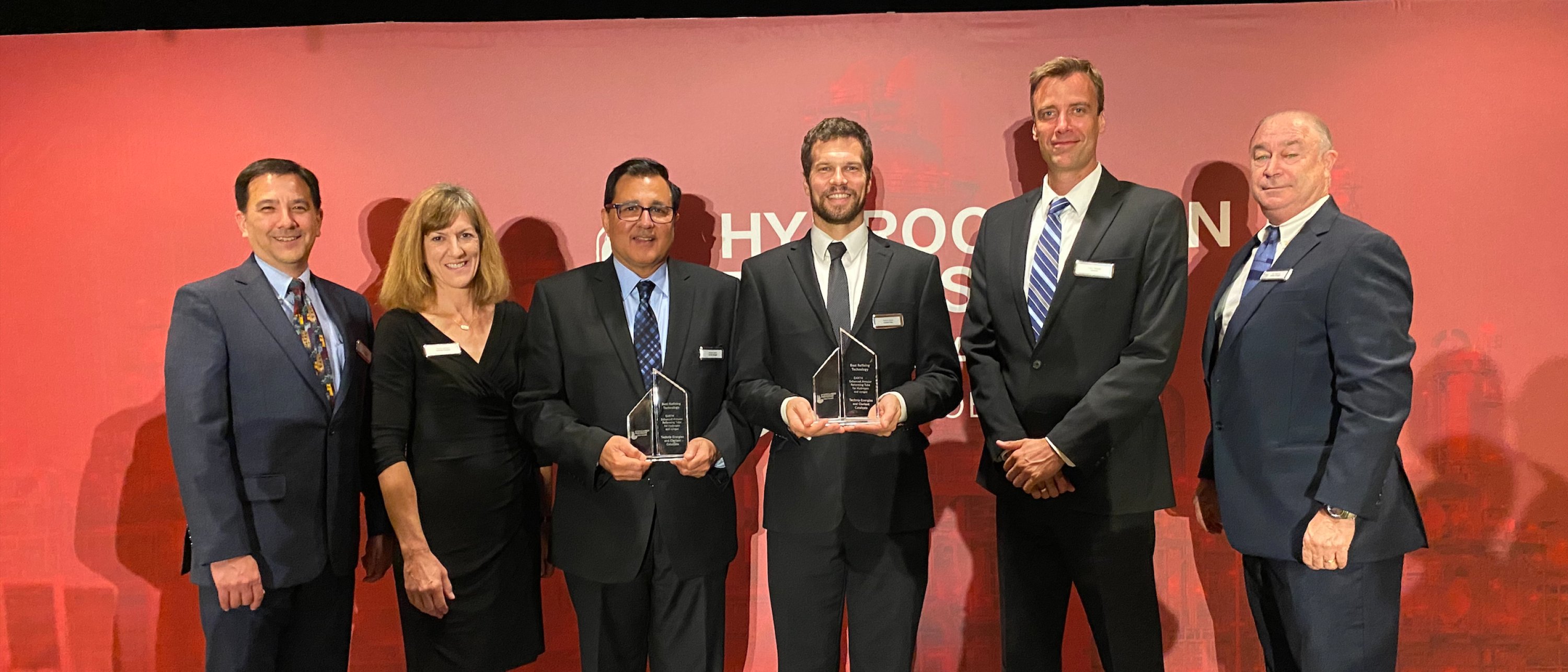 Clariant & Technip Energies' EARTH® tech for energy-efficient H2 production wins first place - twice
News
Technip Energies and its technology partner Clariant were presented with two industry awards for their ground-breaking EARTH® technology.
EARTH® technology receives the ICIS Innovation Award 2022 for Best Process Innovation and the Hydrocarbon Processing Award 2022 for Best Refining Technology
The recuperative reforming technology combines high-performance with cost-effective CO2 reduction for large-scale hydrogen production
EARTH® is successfully installed at a world-scale H2 plant in Europe, with an expected capacity increase of up to 20 % at reduced CO2 emissions and fuel consumption
ICIS, which is the world's largest petrochemical market information provider, selected the partners' technology as the "Best Process Innovation" in the ICIS Innovation Awards 2022. EARTH® also won the "Best Refining Technology" category of the Hydrocarbon Processing Awards 2022 – a program that honors the downstream energy segment's leading innovations. Based on recuperative steam methane reforming, EARTH® is a pioneering drop-in solution that enables a capacity increase in the production of hydrogen while contributing to energy savings and an improved CO2 footprint.
In parallel, Clariant and Technip Energies reached another milestone by successfully installing EARTH® technology at a large-scale hydrogen plant in one of Europe's biggest refineries. The loading of EARTH® internals and catalyst in the existing reformer tubes was achieved within the scheduled turnaround period, resulting in a successful start-up this year. The revamp is expected to increase the plant's production capacity by up to 20 %.
Loic Chapuis, SVP Gas & Low-Carbon Energies of Technip Energies, commented: "The installation of our EARTH® technology in a large-scale hydrogen plant within a world-scale refinery is an important milestone. It illustrates how we can reduce emissions and increase hydrogen production capacity through innovative technology. Energy efficiency is one of the key components of building a sustainable future."
Jens Cuntze, President of Clariant Catalysts, added: "Our expertise in catalysis combined with Technip Energies' know-how in process technology uniquely positions EARTH® technology at the cutting edge of the chemical industry. We are also delighted to witness the successful installation at our customer's plant, which marks a turning point in the scaling of more efficient and sustainable hydrogen production."
Created and patented by Technip Energies, EARTH® technology combines a concentric tubular assembly in the steam methane reformer with a tailor-made structured catalyst, jointly developed with Clariant. The ground-breaking solution improves the efficiency of hydrogen production. Compared to the performance of Clariant's traditional catalysts in a standard reformer, EARTH® is proven to increase hydrogen yield by up to 20 %, while decreasing CO2 emissions by up to 10 %, and reducing make-up fuel consumption by up to 50 % per unit of hydrogen produced. The technology is carbon-capture-ready and can play a key role in global efforts to reduce emissions with low-carbon hydrogen.
An acronym for "enhanced annular reforming tube for hydrogen", EARTH® technology is a drop-in solution that can be installed into existing or new reformer tubes, with the catalyst loaded in the outer annular space. The novel catalyst design offers low pressure drop, maximum activity, and improved heat transfer. Due to its outstanding stability and mechanical robustness, the catalyst delivers excellent performance despite the thermal and mechanical stress of the reforming process and the reduced volume of the EARTH® catalyst bed.
To learn more about EARTH® technology, visit: https://www.technipenergies.com/media/earth-technology-flysheet
EARTH® IS A TRADEMARK OF TECHNIP ENERGIES.
Technip Energies is a leading Engineering & Technology company for the energy transition, with leadership positions in Liquefied Natural Gas (LNG), hydrogen and ethylene as well as growing market positions in blue and green hydrogen, sustainable chemistry and CO2 management. The company benefits from its robust project delivery model supported by extensive technology, products and services offering.
Operating in 34 countries, our 15,000 people are fully committed to bringing our client's innovative projects to life, breaking boundaries to accelerate the energy transition for a better tomorrow.
Technip Energies is listed on Euronext Paris with American depositary receipts ("ADRs") trading over-the-counter in the United States. For further information: www.technipenergies.com.
Media relations
Stella Fumey
Director Press Relations & Digital Communications
Tel: +33 (1) 85 67 40 95
Email: Stella Fumey
Jason Hyonne
Press Relations & Social Media Lead
Tel: +33 1 47 78 22 89
Email: Jason Hyonne