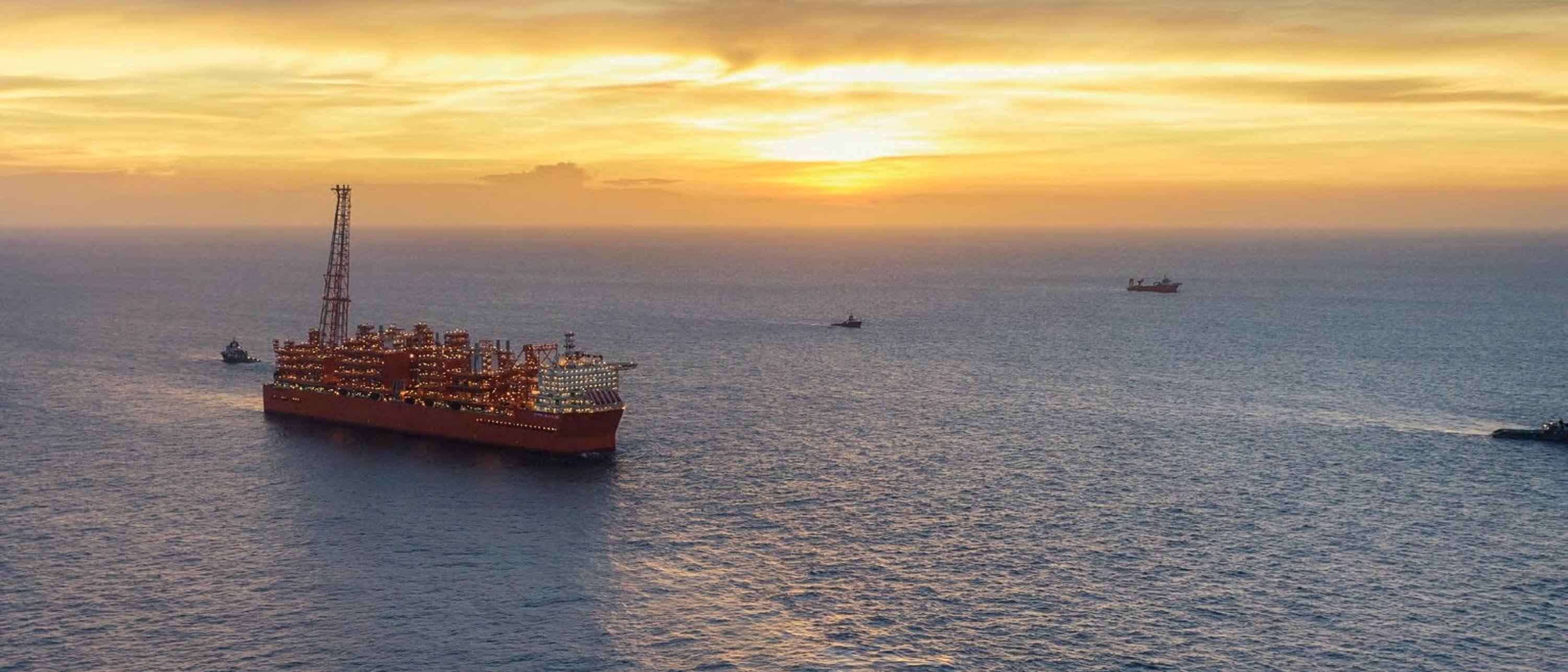 Coral Sul FLNG
First Deep Water FLNG in Africa
Coral Sul FLNG is a floating liquefied natural gas unit that is being installed 80 kilometers offshore Mozambique in the southern part of Area 4 of the Rovuma Basin. It has a production capacity of 3.4 MMTPA of LNG per year from wells located in 2,000-meter water depth with a design life of 25 years. The project includes engineering, procurement and construction as well as transport, installation and startup, plus operation of the FLNG until Provisional Acceptance. The project is being executed by a consortium of three entities: A joint venture between Technip Energies and JGC, Samsung Heavy Industries (SHI) and TechnipFMC, with Technip Energies serving as consortium leader. The project includes a strong local content aimed at promoting the growing competencies of the regional workforce and subcontractors for the development of the oil and gas sector in Mozambique.
Coral Sul is the third FLNG that Technip Energies has designed and built, further confirming our leadership in the liquefaction of natural gas and on large offshore production facilities."
A fast-track schedule executed in multiple operating centers
One of the main challenges of the project was the specified schedule with a Ready For Startup 60 months after the contract effective date, meaning a Ready For Sail Away at month 54.5. A fast-track schedule for engineering and procurement was developed to enable a smooth topsides and hull construction.
Another challenge involved the coordination of engineering for this complex facility being spread among the consortium stakeholders and the turret mooring system subcontractor in six operating centers in the USA, France, Singapore, Korea, Japan and India. To facilitate, common 3D tools and a database were shared between operating centers and an efficient interface management system was implemented.
The LNG trains of Coral Sul FLNG use the latest liquefaction technologies with an APCI DMR process and four LNG loading arms for side-by-side offloading operations supplied by Technip Energies.
All topsides modules were built in SHI yard in Korea and were fully fitted with instrumentation and electrical and piping components before being lifted and integrated into the hull, minimizing the amount of integration activities. This strategy required a very early and mature definition of the engineering deliverables by the TEN-JGC Joint Venture.
Showcasing expertise in FLNG technology in offshore facilities and LNG plants
Technip Energies has taken advantage of our expertise in FLNG technology to develop fast-track and robust engineering activities tailored to the construction strategy of SHI yard. Critical constraints associated with the construction, transport, installation and startup of the FLNG as well as lessons learned from previous projects were incorporated at the early stage of design and procurement.
As consortium leader, Technip Energies has used its extensive project management capabilities to coordinate activities among all partners and resolve numerous interfaces inherent to the development of such a complex facility within the tight schedule of each operating center.
The Ready For Sail Away was achieved per contract schedule despite the COVID pandemic affecting construction yards in Singapore for the turret mooring system and in Korea for the hull and topsides, with no carryover to the offshore phase.
Download the CORAL SUL FLNG project here:
Get in touch
Do you want to speak directly to our team?
You can browse our locations or send a message using the contact us form, both available on our Contact page.
To discuss Coral Sul FLNG or similar projects, please select the Floating LNG contact from the dropdown in the contact form.
General enquiries
For more general queries, please use this field to send a message and we will direct it to the appropriate team.