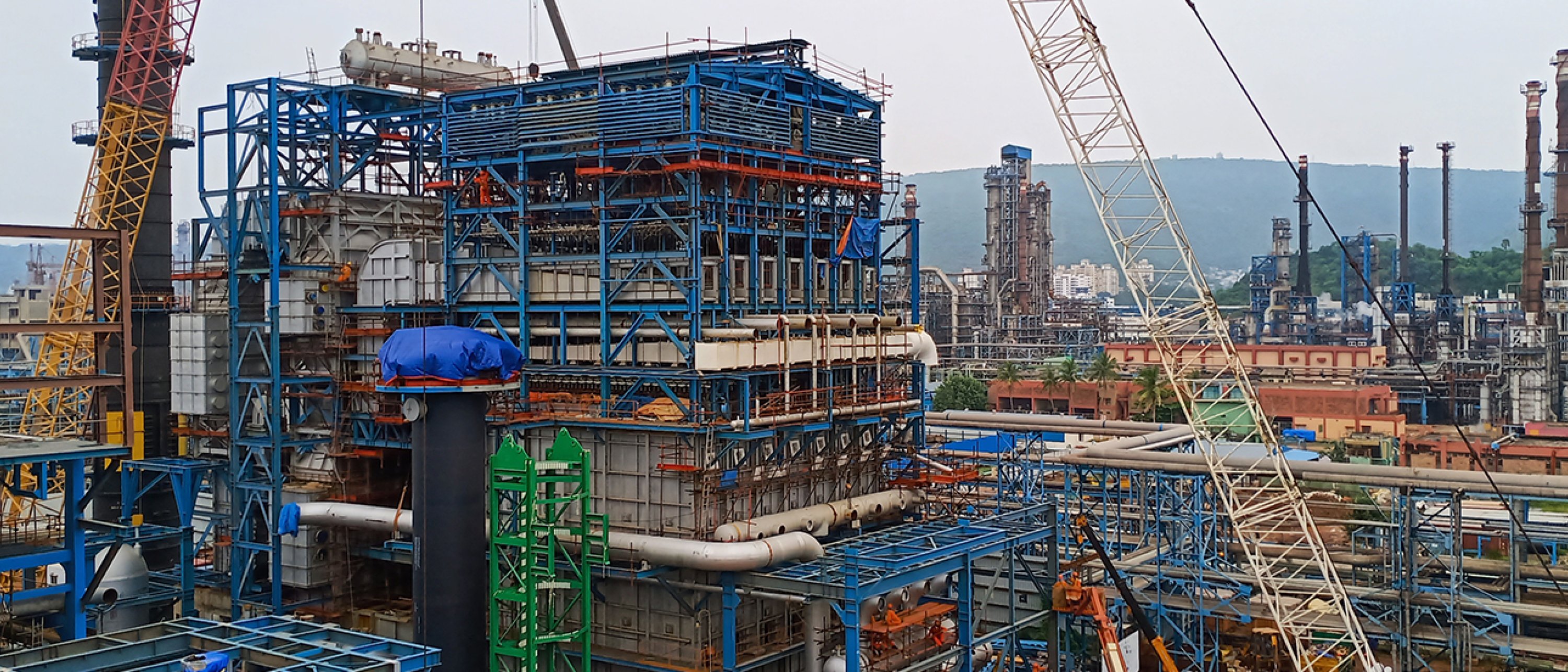 HPCL Visakh facility
Boosting hydrogen production and sustainability 2020
Technip Energies was awarded a contract by the state-owned Hindustan Petroleum Corporation Ltd. for a grassroot Hydrogen Generation Unit (HGU). The project is part of the brownfield expansion for HPCL's Visakh Refinery Modernization Project located in India.
The contract covers project management, technology licensing, preparation of basic design and engineering package, as well as detailed engineering, procurement, construction, commissioning and performance guarantee test run on an LEPCC* basis.
*LEPCC: Licensing, Engineering, Procurement, Construction and Commissioning
Forward-thinking leadership and a commitment to sustainability through innovation are fundamental to the Technip Energies ethos. With HPCL, we are pushing boundaries of technology to steer clients into a green future."
Maximizing energy efficiency, minimizing CO2 emissions.
Technip Energies provides a new Hydrogen Generation Unit (HGU) with its advanced technology for one of Hindustan Petroleum Corporation Limited's (HPCL) refineries. The new world-scale Hydrogen Generation Unit is part of HPCL's Visakh Refinery Modernization Project (VRMP), a strategic project for the government of India to meet growing consumer demand and new environmental requirements for fuel quality by raising the refinery capacity from 8.33 to 15 MMTPA**.
The selection of HGU process technology and configuration was driven by environmental and economic considerations to minimize CO2 emissions and reduce operating costs. The detailed execution plan addressed safety and logistical challenges inside an operational refinery to prevent incidents and shutdowns. With more than 1,500 people on site, work and equipment usage must be coordinated at all times.
**MMTPA: Million Metric Tonnes Per Annum
Solutions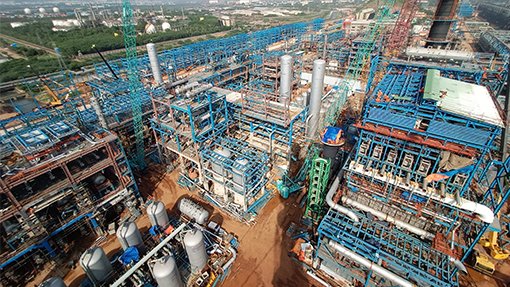 A unique technology combining several referenced and proprietary technologies.
Technip Energies' involvement in the project includes providing licensing, a basic design engineering package, engineering, procurement, construction and commissioning support.
The hydrogen generation package is comprised of two grassroot HGU's each with a design capacity of 113 KTPA, and a Hydrogen Recovery Unit (HRU) of 36 KTPA. The HGU uses Technip Energies' Parallel Reformer (TPR©) and Process Gas Boiler, our proprietary technology for steam reforming.
This marks the first hydrogen plant to undergo a grassroots installation of a TPR© to recover heat from the reformer effluent for producing hydrogen, reducing fuel consumption and CO2 emissions in combination with other advanced heat recovery methods.
Excess HP steam generated in the HGU is used by a condensing steam turbine generator to power the HRU, making the facility self-sufficient in steam and power during normal operation. Sulphur content of the feed is reduced in an integrated pre-desulphurization section before being sent as sweet naphtha to feed the main HGU.
Generating a greener future.
Our involvement in HPCL's Visakh Refinery Modernization Project allows us to strengthen our client collaboration, track record and reputation in India. Our teams are gaining significant expertise, enhancing our ability to work across cultures and with different partners.
Technip Energies is also proud to be working on a project with strong environmental credentials. Increasing India's capacity to produce cleaner fuel while reducing emissions is a challenge that speaks directly to our commitment to sustainability.
Get in touch
Do you want to speak directly to our team?
You can browse our locations or send a message using the contact us form, both available on our Contact page.
To discuss HPCL Visakh or similar projects, please select the Projects India contact from the dropdown in the contact form.
General enquiries
For general queries, please use this field to send a message and we will direct it to the appropriate team.