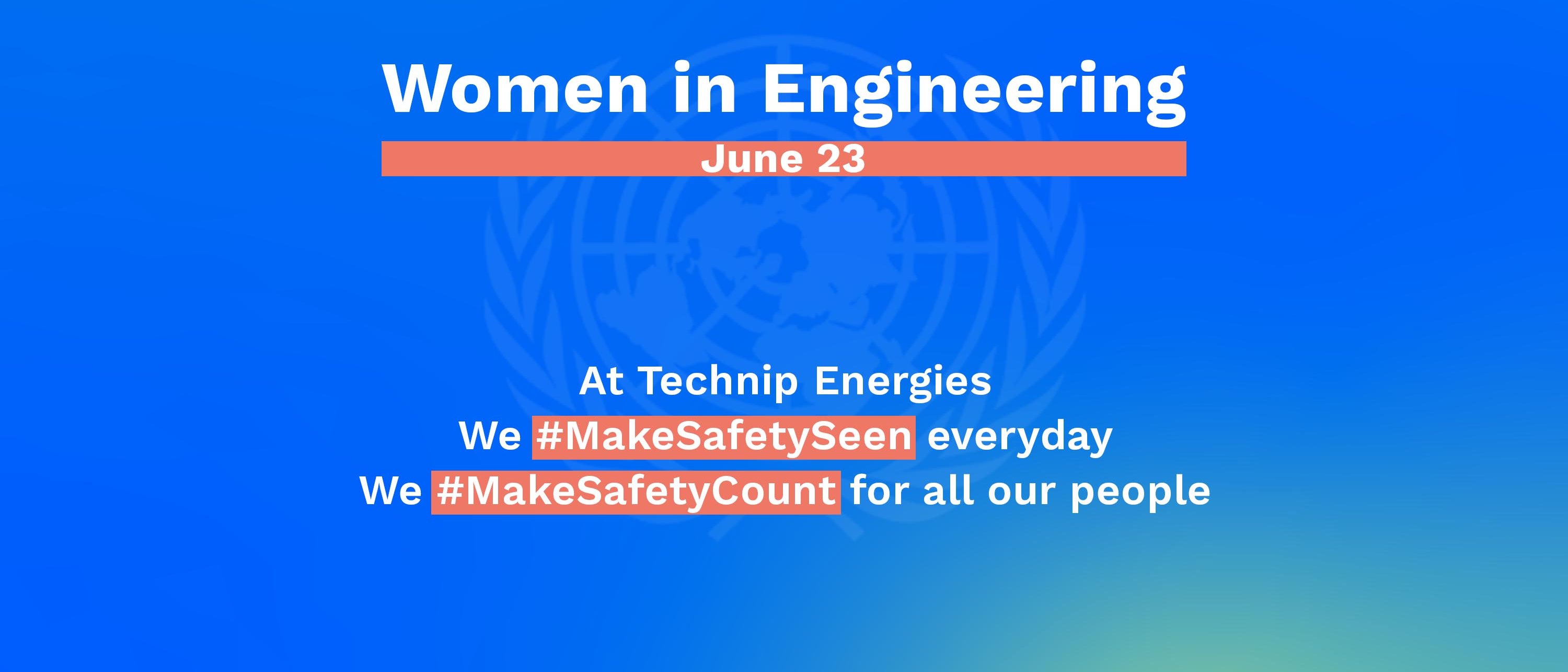 Making Safety Seen on International Women in Engineering Day
News
International Women in Engineering Day is an occasion that we proudly celebrate on June 23. It serves as a reminder of the remarkable contributions made by women engineers worldwide in supporting lives, livelihoods, and the construction of a brighter future.
This year's theme, #MakeSafetySeen, emphasizes the importance of safety in engineering. To provide insights into Technip Energies' unique approach to safety, we turn to Valentina Gabriel, our Vice President of QHSES, who states: "We're incredibly proud of our safety culture, which stands out in our global internal engagement survey results, with 98 percent of respondents rating safety as 'very high'."
One example of how women at Technip Energies #MakeSafetySeen is Marta Przybylska, HSE Coordinator, for a project in The Netherlands. In December 2022, Bureau Veritas undertook a Social and HSE Site audit of the area overseen by Marta. Their subsequent report noted: "…an exceptional level of safety control on site and an incredible overview of temporary construction site management."
At Technip Energies, it is important to see and #EnvisionSafety in different ways, which we do through leadership, innovation, and training. We continuously strive to create an environment where everyone feels safe and is committed to acting responsibly.
For instance, we are deploying thought-provoking climate change workshops with the Climate Fresk organization, that help us realize that one of the key solutions is being sustainable by design. To enhance knowledge and awareness, we routinely utilize HSE mock-ups on our sites to reproduce risky situations in a controlled way and show the real effects of potential incidents.
With respect to livelihood, our commitment to female empowerment is exemplified through Project Garima, our CSR initiative in India. The term "Garima" translates to "dignity" in English. Through the project, we are positively impacting the lives of over 20,000 girls and women by providing training that translates into earning a living sustainably.
Ultimately, safety remains at the forefront of our activities, with our people at the heart of it all. Every day, our employees #MakeSafetyCount, not just in our operations, but also in the wider communities. Valentina concludes, "Safety is more than just numbers or statistics; it's a culture that transcends gender, with everyone contributing to our success."
#MakeSafetySeen | #EnvisionSafety | #MakeSafetyCount