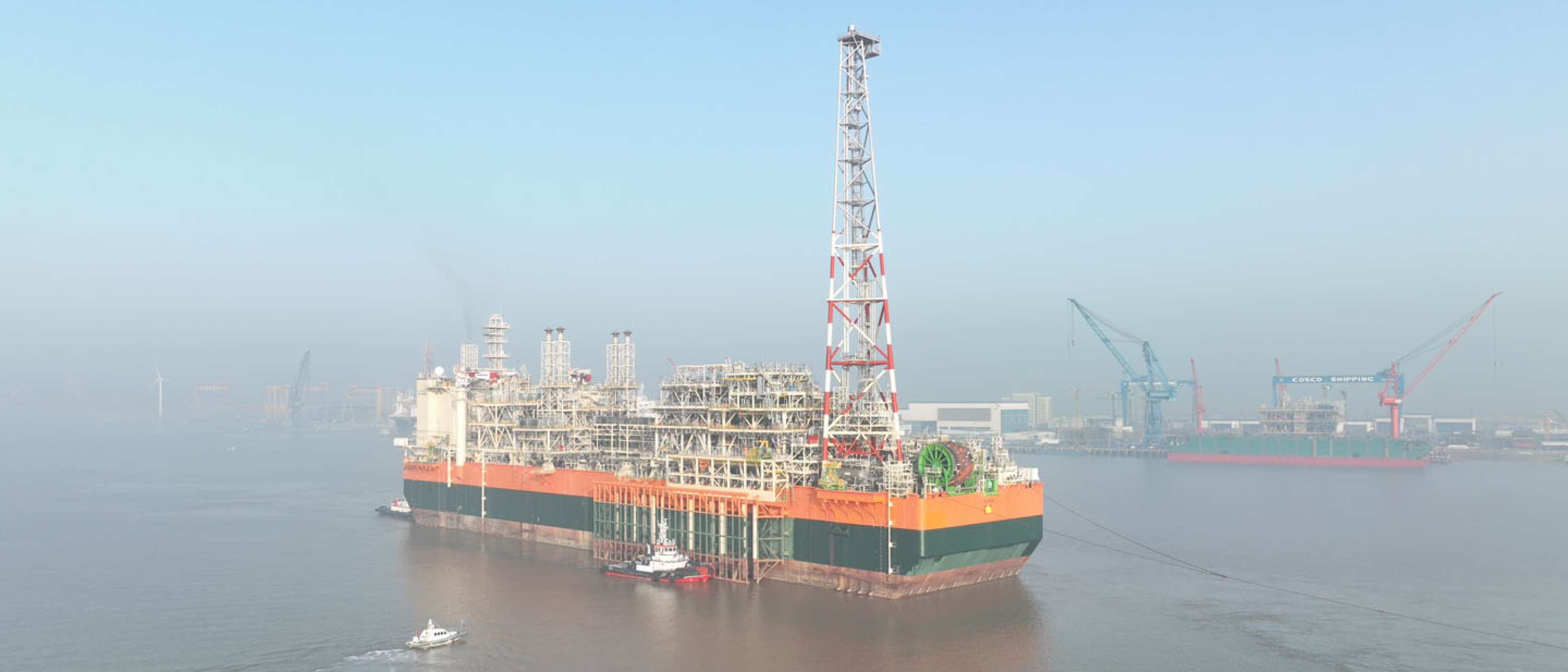 Technip Energies Announces the Sail Away of bp Greater Tortue Ahmeyim FPSO
News
Technip Energies is pleased to announce that – following a successful sea trials campaign – the Greater Tortue Ahmeyim (GTA) Floating Production Storage and Offloading (FPSO) sailed away from China to Senegal and Mauritania via Singapore on January 20.
The FPSO will serve GTA Phase 1 site on the maritime border of Mauritania and Senegal for the GTA phase 1. The floating facility measures 270 meters in length, 54 meters in width and 31.5 meters in depth. It is as large as two football fields and is of the same height as a 10-floor building. The FPSO includes eight processing and production modules and can accommodate 140 people on board. The key function of the FPSO is to remove water, condensate and reduce impurities in the gas stream before exporting processed gas to the FLNG facility in Mauritania and Senegal.
As part of the project local content, Technip Energies has involved local companies to execute scopes of the project. Technip Energies will also integrate local personnel into the subsequent phases of the project. Local engineers and technicians, trained throughout the project development phases, will be involved in the various activities related to mooring, tie-in, commissioning and start-up, holding various positions: pre-commissioning, commissioning, Quality, HSE and logistics.
Marco Villa, COO of Technip Energies, commented: "This is a significant milestone that demonstrates our project execution excellence with the highest standards of safety and quality. We would like to thank bp and their partners for their trust and we are looking forward to continuing the GTA FPSO journey with the next phases of the project taking place in Senegal and Mauritania."
Technip Energies was awarded a contract by bp for the Engineering, Procurement, Construction, Installation and Commissioning (EPCIC) in 2019 for the GTA FPSO, following the execution of the Front-End Engineering and Design (FEED) by Technip Energies.
Technip Energies is a leading Engineering & Technology company for the energy transition, with leadership positions in Liquefied Natural Gas (LNG), hydrogen and ethylene as well as growing market positions in blue and green hydrogen, sustainable chemistry and CO2 management. The company benefits from its robust project delivery model supported by extensive technology, products and services offering.
Operating in 34 countries, our 15,000 people are fully committed to bringing our client's innovative projects to life, breaking boundaries to accelerate the energy transition for a better tomorrow.
Technip Energies is listed on Euronext Paris with American depositary receipts ("ADRs") traded over-the-counter in the United States. For further information: www.technipenergies.com.
Contact
Laura Pereira-Neto
Head of Communications, Paris Operating Center
Tel: +33 1 85 67 43 22
Email: [email protected]