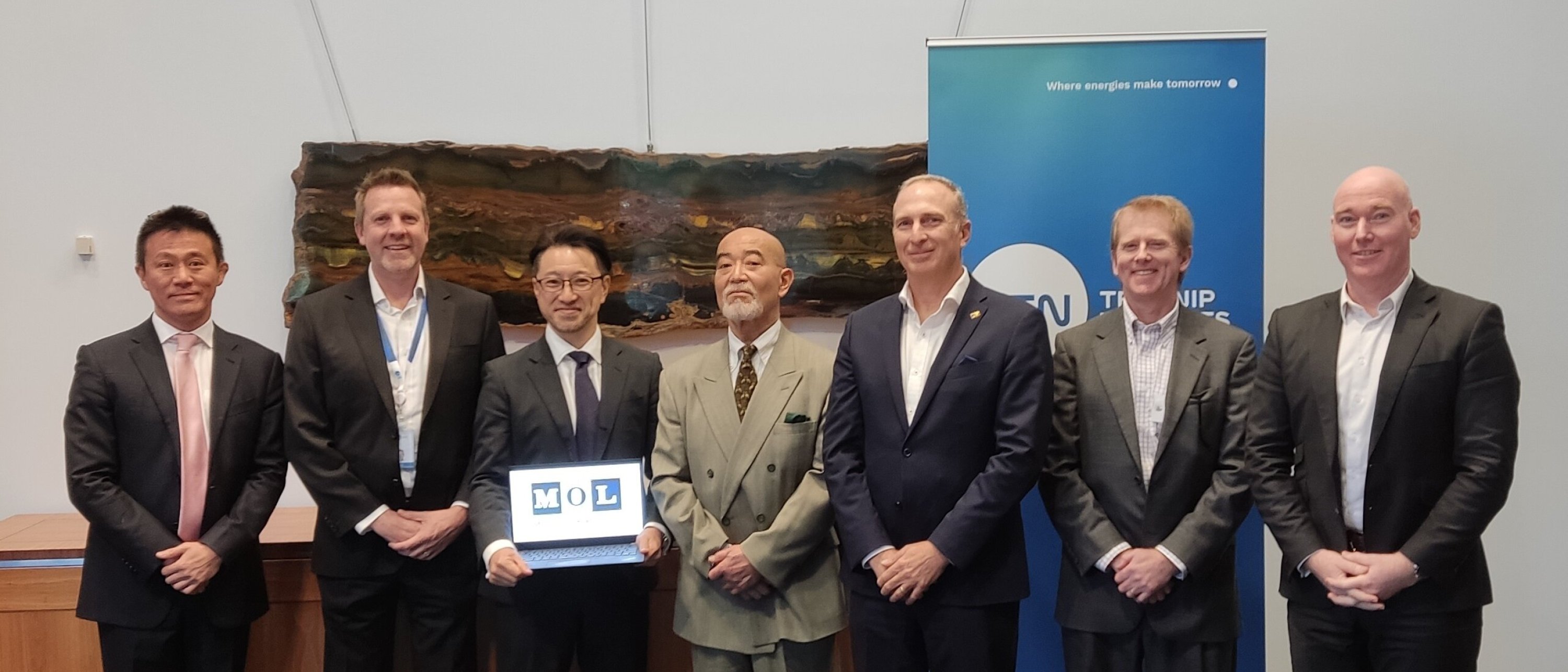 Tuesday, September 13, 2022
Technip Energies, deepC Store and Mitsui O.S.K. Lines Join Forces for a Floating Carbon Capture & Storage Hub Development
News
Technip Energies, deepC Store Limited and Mitsui O.S.K. Lines executed a Letter of Intent (LOI) regarding the Engineering, Procurement and Construction (EPC) and operations for the CO2 Floating Storage and Injection ("FSI") Hub facility scope for CStore1.
The CStore1 Project will be the first large-scale offshore multi-user hub and has a planned CO2 injection capacity of between 1.5 and 7.5 million tonnes per annum. It supports industry and community goals towards decarbonization and transitioning to a sustainable future. The Project covers the entire CCS value chain and consists of:
Capturing and liquefying CO2 from multiple industrial sources in Australia and potentially the Asia-Pacific Region.
Shipping liquid CO2 from industrial sources to CStore1's Floating Storage and Injection (FSI) Hub located in offshore Northern / Western Australia.
Offloading and temporarily storing liquid CO2 at the FSI Hub prior to injection.
Injecting and storing CO2 in a permanent subsurface geological formation near the FSI Hub.
The three parties have agreed on the intent for Technip Energies to exclusively provide FEED and EPC services for the FSI Hub using Technip Energies' Offshore C-Hub™ technology, and for MOL to provide the Pre-FEED service for CO2 shipping scope and closely work with dCS and T.EN in relation to the FSI Hub facility scope.
Genesis, Technip Energies' wholly owned subsidiary, will support the delivery of the FSI hub by providing engineering of the Subsea Umbilicals, Risers and Flowlines (SURF) component of the facility, including architecture selection, flow assurance, engineering for risers and flowlines, and Christmas trees.
Paul Browne, Australia Country Manager of Technip Energies stated: "Technip Energies as a world leader in carbon capture solutions together with our expertise in Australian offshore project delivery, is proud to be involved in this leading endeavor. Working with our development partners deepC Store and MOL, and advisory subsidiary Genesis, we look forward to creating a cost effective and sustainable option for the receiving and handling of carbon in the region."
Jack Sato, Chairman of deepC Store, commented: "The FSI Hub is a key facility within the overall CStore1 project for unlocking a range of remote offshore CO2 injection sites.  The LOI with MOL and T.EN ensures technical confidence to develop CStore1 as the first offshore floating CCS hub project in Asia Pacific region."
Yasuchika Noma, Executive Officer of Mitsui O.S.K. Lines, said: "As a provider of social infrastructure service in addition to traditional shipping, MOL is honored to have an opportunity to expand our involvement in CStore1 project. We are also delighted about another collaboration with deepC Store and T.EN in this project for further development."
About Technip Energies
Technip Energies is a leading Engineering & Technology company for the energy transition, with leadership positions in Liquefied Natural Gas (LNG), hydrogen and ethylene as well as growing market positions in blue and green hydrogen, sustainable chemistry and CO2 management. The company benefits from its robust project delivery model supported by extensive technology, products and services offering.
Operating in 34 countries, our 15,000 people are fully committed to bringing our client's innovative projects to life, breaking boundaries to accelerate the energy transition for a better tomorrow.
Technip Energies is listed on Euronext Paris with American depositary receipts ("ADRs") trading over-the-counter in the United States. For further information: www.technipenergies.com.
About Genesis
Genesis, Technip Energies wholly owned consultancy business, is a market-leading advisory company focused on providing high value technical and advisory services for the energy industry. As trusted advisors committed to a sustainable future, we have extensive experience working in true partnership with our clients while providing innovative, robust and sustainable solutions.
By cultivating our extraordinary talent across our 15 global locations, we employ new and dynamic thinking, using digital tools, embracing change, and constantly seeking new opportunities to make a real and lasting impact. For further information: www.genesisenergies.com
Contacts
Media relations
Stella Fumey
Director Press Relations & Digital Communications
Tel: +33 (1) 85 67 40 95
Email: Stella Fumey
Jason Hyonne
Press Relations & Social Media Lead
Tel: +33 1 47 78 22 89
Email: Jason Hyonne