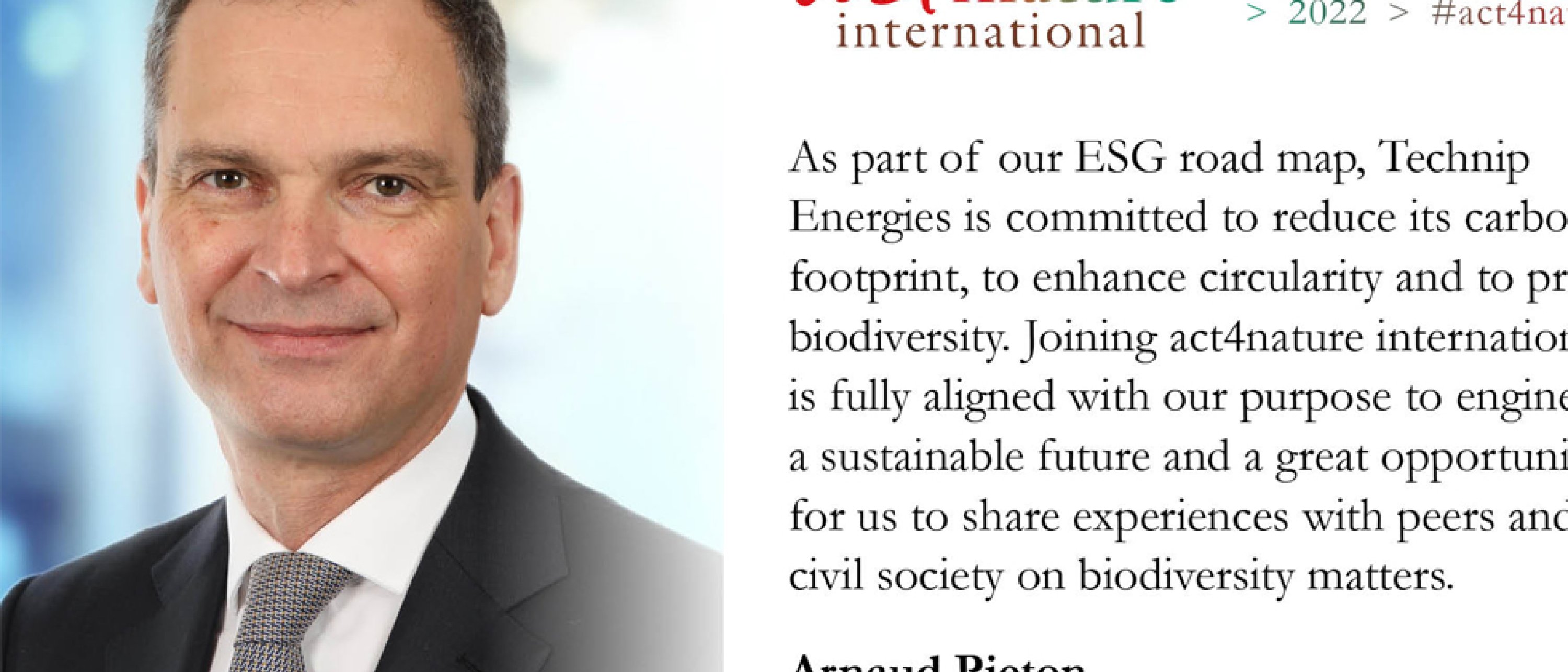 Tuesday, October 25, 2022
Technip Energies Joins Act4nature International to Reinforce its Commitment Towards Biodiversity
News
Technip Energies announces it has joined Act4nature International in September 2022 to reinforce its action towards conservation of nature and biodiversity.
Act4nature International is a pragmatic alliance initiated by businesses and stakeholders, including business organizations, NGOs and scientific institutions, to accelerate concrete action in favor of nature.
To join Act4nature International, businesses are asked to agree formally around  10 'common' commitments and to define individual SMART(1) commitments cross-checked by Act4nature stakeholders. Businesses commit also to publicly report on the progress of their initiatives within two years.
As part of joining Act4nature International, Technip Energies individually committed to notably:
Integrate biodiversity into its global strategy and activities

Refrain from participating in

any new projects inside International Union for Conservation of Nature (IUCN) most sensitive areas.

Report the exposure of T.EN projects' and assets' sites to biodiversity risk (Low, Medium, High).
Arnaud Pieton, CEO of Technip Energies stated: "As part of our ESG roadmap, Technip Energies is committed to reducing its carbon footprint, enhancing circularity and protecting biodiversity. Joining Act4nature International is fully aligned with our purpose to engineer a sustainable future and a great opportunity for us to share experiences with peers and civil society on biodiversity matters."
Technip Energies ESG roadmap already integrates a biodiversity protection ambition, and a target of 100% of sites at risk covered with a biodiversity management plan by 2025.
(1) SMART: Specific – Measurable – Additional – Realistic – Time-bound.
Technip Energies is a leading Engineering & Technology company for the energy transition, with leadership positions in Liquefied Natural Gas (LNG), hydrogen and ethylene as well as growing market positions in blue and green hydrogen, sustainable chemistry and CO2 management. The company benefits from its robust project delivery model supported by extensive technology, products and services offering.
Operating in 34 countries, our 15,000 people are fully committed to bringing our client's innovative projects to life, breaking boundaries to accelerate the energy transition for a better tomorrow.
Technip Energies is listed on Euronext Paris with American depositary receipts ("ADRs") trading over-the-counter in the United States. For further information: www.technipenergies.com.
Media relations
Stella Fumey
Director Press Relations & Digital Communications
Tel: +33 (1) 85 67 40 95
Email: Stella Fumey
Jason Hyonne
Press Relations & Social Media Lead
Tel: +33 1 47 78 22 89
Email: Jason Hyonne