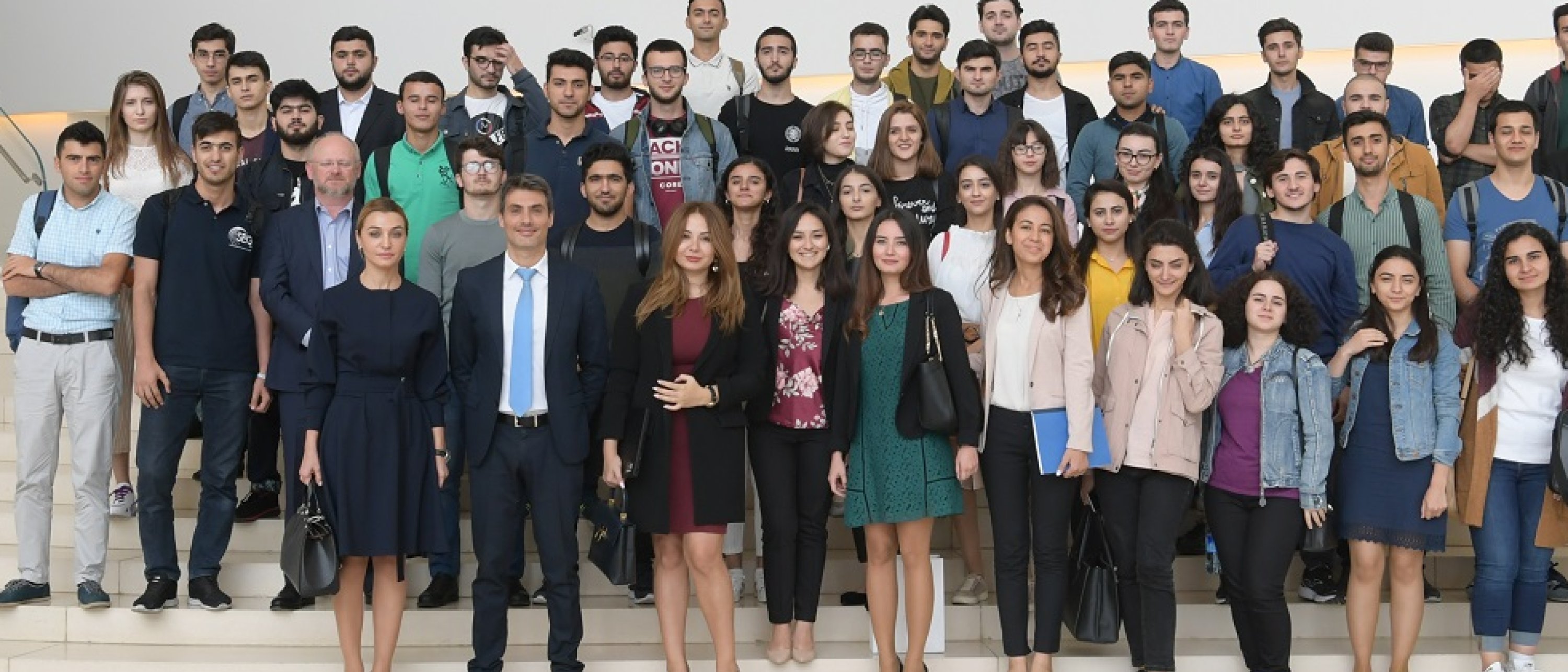 Baku Master technology transfer program
Developing local talents through qualified knowledge transfer​
The Baku Master Program is an innovative project aimed at transferring the technology knowledge to the local community of Azerbaijan through young generations.
50 shortlisted young talents from two leading universities were subjected to the following phases of the program: candidate selection, technology training, international internship, and recruitment.
The main objective to the Baku Master program was to discover young talents and transform them into future leaders and experts to be engaged in Technip Energies.
It was also to change the society's mindset towards a more advanced and sustainable country development, to increase sustainability awareness in Azerbaijan through the young generation as well as to share technology know-how to valorize local community.
In 2019 Technip Energies Baku Operating Center and the Heydar Aliyev Foundation developed a new Master's Program in Baku, Azerbaijan. The aim was to improve the students' technology knowledge and skills in the fields of oil and gas, energy transition and sustainability, as well as to implement joint projects in the fields of science, technology and education.
In June 2019, 50 students were selected from two leading engineering universities in Baku and were announced during an opening ceremony in September.
During several weeks of training, the students were qualified in seven modules managed by Technip Energies' experts from Italy, France and Norway through live training sessions. Weekly group workshops were performed to share more on all the learning experience. A final test evaluation was conducted on all modules.
In a second phase, the 15 best students were selected to continue their journey through internships in Italy, France and Norway. After the internship, eight of them were hired to join our teams in Technip Energies.
To be able to complete this program successfully, Technip Energies teams in Rome and Baku cooperated to support the coordination of all necessary activities, as well as increasing local capability, building a local skilled workforce with knowledge transfer and leading the development of local communities with the creation of job opportunities.
The key aspects beyond Baku Master success were, in particular:
Full support from Technip Energies management and experts; and
Strict cooperation between Technip Energies national infrastructure, such as Baku Office, to involve local authorities promoting the increase of education and training trough cooperation agreements with universities.
The Baku Master represented an amazing experience that linked local content themes with Technip Energies business.
Where replicated in a systematic and sustainable approach throughout all phases of the business and production, this transfer model is an important opportunity for a deep integration between Technip Energies centers and local communities and authorities.
Many benefits from the program have been identified, such as the acquisition of seven local young talents that are now involved in local and international assignments.
All the students in the program benefited from additional technical and practical knowledge, as well as work experience from a multicultural environment.
Both Technip Energies experts and the students were very enthusiastic about the benefits of this program. Technology transfer will contribute to boosting the country's economy in a long-term shot through changing the mindset of people towards sustainable and technologically advanced industry.
Get in touch
Do you want to speak directly to our team?
You can browse our locations or send a message using the contact us form, both available on our Contact page.
General enquiries
For more general queries, please use this field to send a message and we will direct it to the appropriate team.