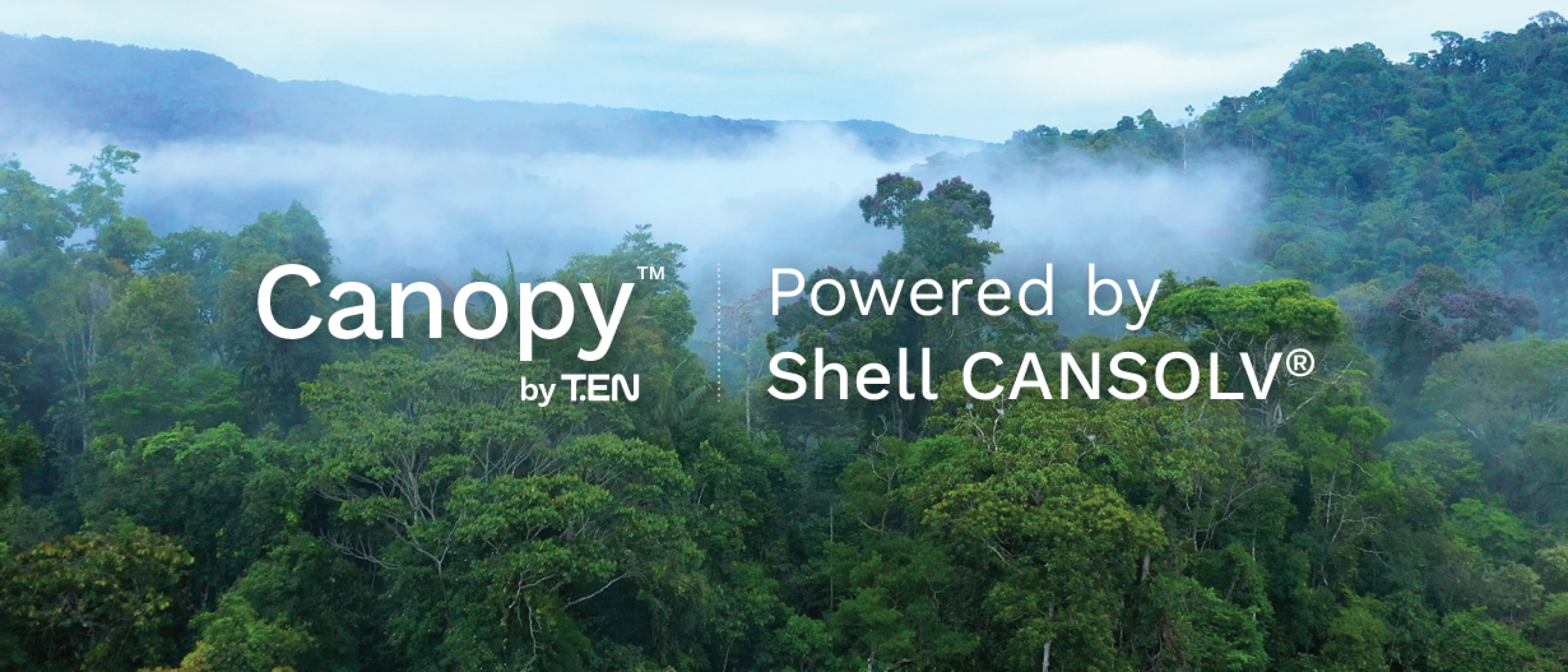 Canopy by T.EN™
Capture with confidence. Now.
Meeting net-zero targets means increasing global carbon capture capacity to 1.7 Gtpa by 2030 and 7.6 Gtpa by 2050 (IEA, 2021). Achieving these demands fast, agile, cost-effective CCUS solutions that capture the opportunity to transform carbon into sustainable global living. Now.
Canopy by T.EN™ powered by Shell CANSOLV® CO₂ Capture System
Canopy by T.EN™ is a flexible, integrated suite of post-combustion carbon capture solutions for any type of emitter.
Powered by Shell CANSOLV® CO₂ Capture System, our solutions derisk your projects, freeing you to capture with confidence and meet your emissions reduction targets quickly, efficiently and affordably regardless of scale, industry or location.
As your reliable and committed partner, we guide you on your journey toward decarbonized energy and cleaner products by securing funding, optimizing your capital and operational investment and realizing the value of your carbon capture development.
At pace. At scale. Now.
Technip Energies and Shell Catalysts & Technologies
Combining Shell's technology with the project management, integration and delivery expertise of Technip Energies, the alliance is delivering solutions the world needs for a low-carbon society.
Working together since 2012, we have a proven track record in reducing costs, facilitating execution, supporting reliable operations and making carbon capture accessible for every emitter.
The Canopy by T.EN™ range
From testing and piloting up to the world's largest installations, we've got your post carbon capture solutions covered.
Capture performance
Powered by cutting-edge CANSOLV® CO₂ Capture System, Canopy by T.EN™ solutions deliver CO2 recovery rates above 95% and feature excellent energy efficiency, low-solvent volatility and minimal emissions. Digital by design, our capture plants are fully instrumented and completely automated for unmanned operations and plant performance monitoring.
Capture capacity
From pilot schemes to custom solutions for large-scale emitters, Canopy by T.EN™ solutions are available in a range of sizes to build the carbon capture capacity you need.
Capture support
Every carbon capture journey is different. So we're with you every step of the way, solving challenges from funding to implementation with our complete Canopy by T.EN™ solutions.
Smaller emitters (<1 Mtpa) make up 80% of all the emitters in Europe and the US. (Rystad Energy).
Canopy C200 is the only standard, modularized 200 ktpa carbon capture solution package available today. Maximizing capacity and value, it combines leading carbon capture technology with optimized modular architecture and seamless facilities integration.
Engineered. Ready. Direct to Facility. Anywhere. Everywhere. Now.
Discover more about our carbon capture projects
Capture the opportunity to lead. Now.
Find out how Canopy by T.EN™  can help you to reach your CO2 reduction goals faster, on any scale, with real commercial value.